Professional aircraft sellers list
BlueBerry Aviation

WHY CHOOSE BlueberryAviation...

• An impressive customer base of operators and private clients worldwide from the Oil & Gas industry,
public servi ...
ECHO MIKE

...
Helipromotion swiss

Small indipendent and with excellent contacts to worldwide operators! Connecting Helicopters - for operators and private owners - Worldwide!

Piccol ...
Pinabona Aviation

...
POLIMER-P.W.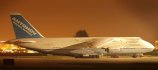 I would like to introduce my business like a partner of your future partner.
Since 2006, because of cooperating with Russian and Ukrainian companies ...
Sarl Hélittoral hélicoptères

...
Sigma Service Ltd.

Sigma Service deals with the purchasing and selling aviation equipment, namely: airplanes, helicopters, spare parts, materials, avionics consists of ...
Swiss Hélicoptères

Vente d'accessoires pour hélicoptères tels que chariots de manutention , manche à air crohets etc...ainsi que des équipements pour Héli-surface (hélip ...