Professional aircraft sellers list
Action Communication SAS Action Air Environnement

...
AVINCO

WHY CHOOSE AVINCO...

• Over 30 worldwide transactions in 2008.
• 15 aircraft purchased as part of AVINCO portfolio in 2008.
• An impressive custo ...
Helipromotion swiss

Small indipendent and with excellent contacts to worldwide operators! Connecting Helicopters - for operators and private owners - Worldwide!

Piccol ...
Jean luc Fanti

...
olivier Maes Aviation

...
Omni International Jet Trading

OMNI INTERNATIONAL JET TRADING is one of the leading jet brokerage firms in the world. Since 1963, we have successfully sold over 2,500 aircraft. For ...
POLIMER-P.W.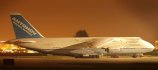 I would like to introduce my business like a partner of your future partner.
Since 2006, because of cooperating with Russian and Ukrainian companies ...
SE AVIATION

...